We are professional bicycle guides, world travelers, adventurous backpackers, bicycle tourists, and culinary connoisseurs. We've lived and worked around the world, and we understand the value of experiencing local culture and getting off the beaten track.
Click the names below to find out more about us.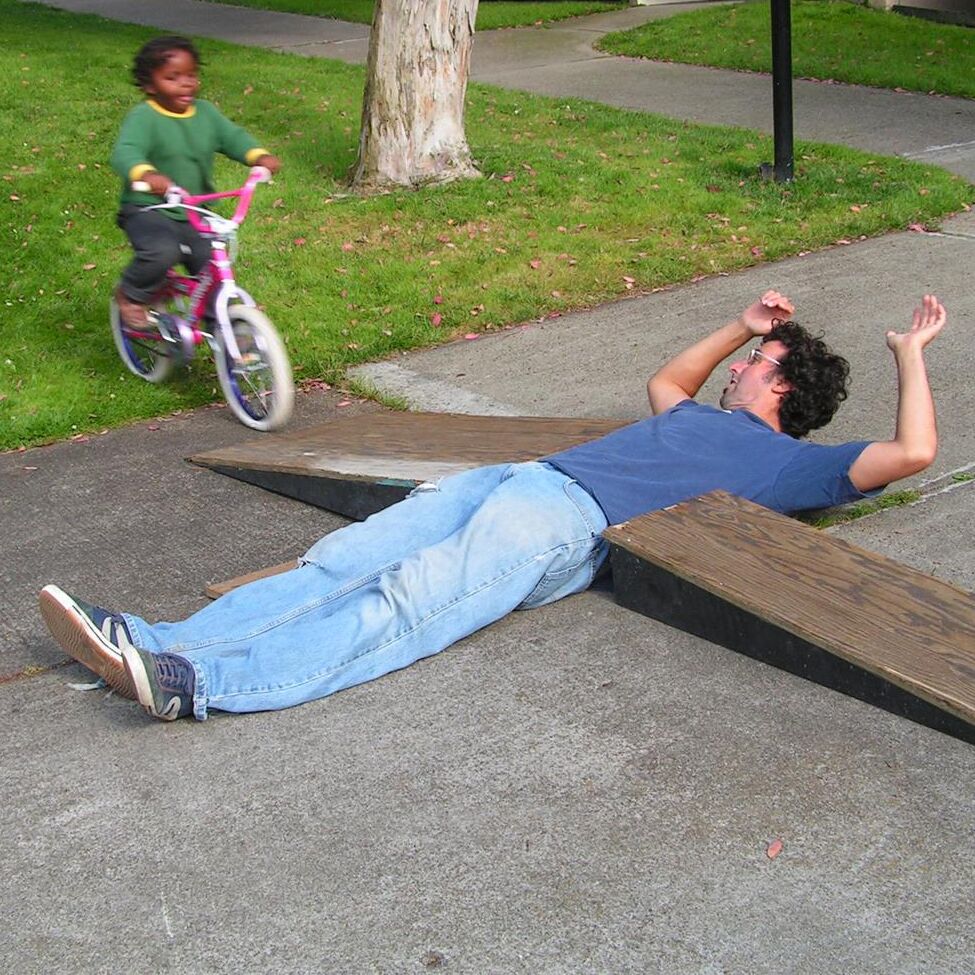 Josh Harris
Guide | Mr. Fantastic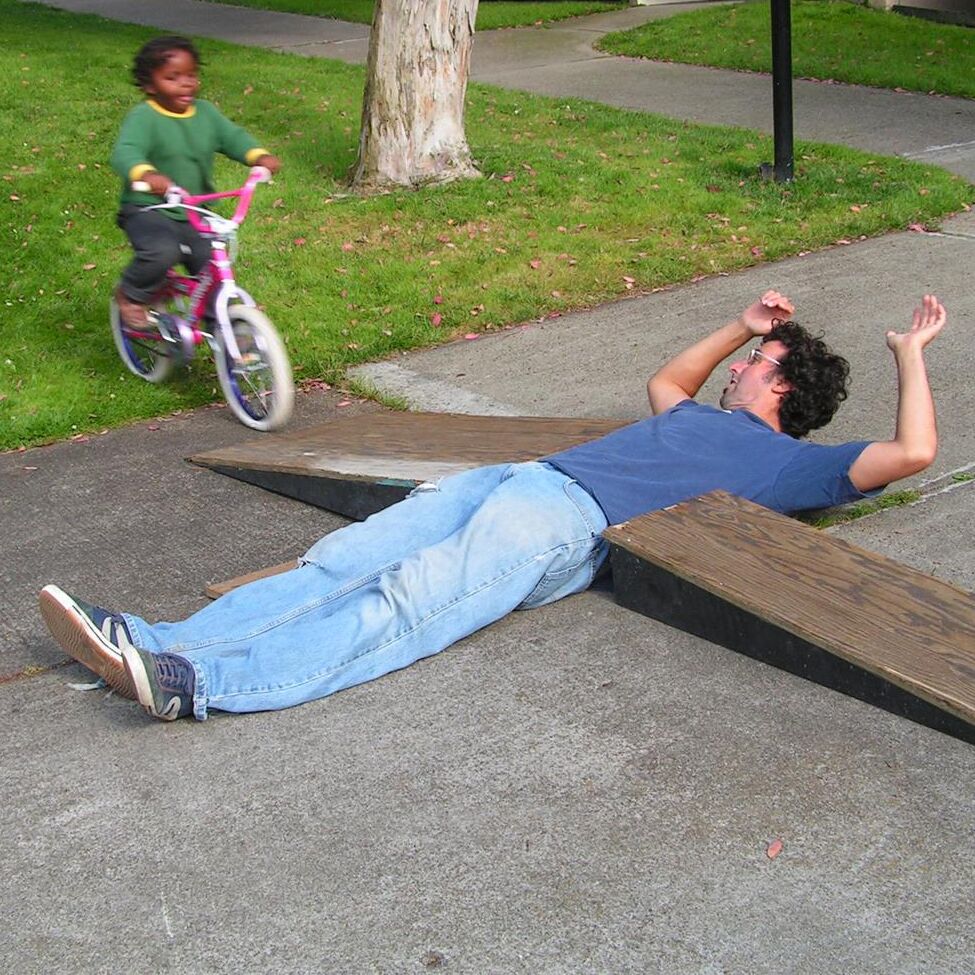 Josh Harris
Guide | Mr. Fantastic
Born in san francisco and raised by coyotes in golden gate park, josh reps the fillmore, crocker park/outer mission, and sunset neighborhoods. He was educated by the city's public schools and taught in them for 14 years. He had his finger on the pulse of the dot com boom and bust moving furniture and he walked the aisles of candlestick park during the will clark and joe montana eras as a soda, peanut, and malt vendor. However it took leaving San Francisco repeatedly for josh to gain the appreciation he now has for the city. The wandering began with college in San Diego and Boston on a swimming scholarship, where he rode his bike first to the beach and then through the snow (and mud) all year long. It continued by chasing summers in Costa Rica, Peru, Chile, Argentina, Brasil, and the California Sierras as a whitewater river guide, safety kayaker, and surfer. Josh is raising three kids in s.f. where they dance, do musical theatre, play in both a salsa and latin jazz band, skateboard, tap, b-boy, and ride MUNI around on their own.
Frisco is special because of the hills, the fog, the people, the pacific ocean, the diversity, and the personality of all the 'hoods. Fogging up car windows with your girl up at twin peaks, looking back on the city from the wave organ, a local session at much maligned crocker skate park, free disco roller skating in the gym at usf during finals week, the new waterfront aquatics division of S.F. Rec and Park summer camps for kids, cheap dim sum, vietnamese sandwiches, boba milk tea with proper crushed ice, prune humantashens at house of bagles ,ben kyodo manju made fresh for 100 years in the old diner in japan town, S.F. Classic scooter ride in august – 300+ vintage vespas and lambrettas and no red lights, Sunday Streets – true neighborhood street fairs with musicians in doorways and tables of treats in front of the restaurants and cafes, and finally the Pro-Am summer basketball league at Kezar Gym where i've seen Jason Kidd, Gary Payton, Leon Powe, Jason Richardson, Matt Barnes, Brian Shaw, Gilbert Arenas, Jeremy Lin, Mark Madsen, little Isiah Thomas mix it up with local high school, college, and street players.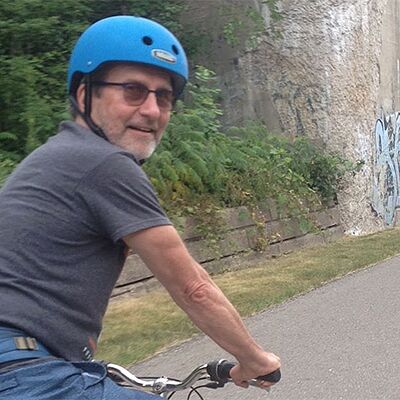 John Byrne Barry
Guide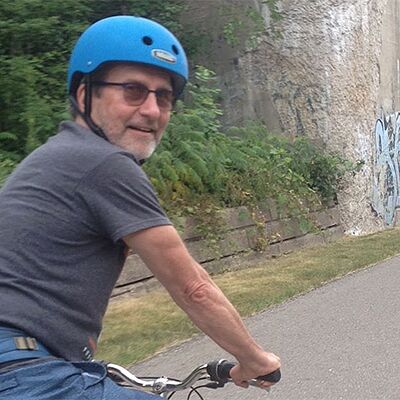 John Byrne Barry
Guide
I got hooked on bicycling as a kid in Chicago, delivering newspapers after school on a Schwinn Typhoon with a wire basket on my front handlebars. When I was in college in central Illinois, I escaped the winters by taking the train to New Orleans and bicycling along the Gulf Coast to Florida, or west into Texas. I've also bicycled from Illinois to the East Coast, and up and down California.
When I first arrived in the Bay Area, I performed with the Plutonium Players, a political comedy troupe, in Bay Area parks, theaters, and clubs. Once my son was born, my responsibility gene kicked in, and I worked for more than two decades for the Sierra Club at Second and Mission, as a writer, designer, webmaster, and trainer. I commuted to the city from Mill Valley a couple times a week for ten years.
I'm author of two novels, Bones in the Wash: Politics is Tough. Family is Tougher, and Wasted: Murder in the Recycle Berkeley Yard. I'm currently writing a murder mystery play for my local community theater.
One of my proudest memories is when my son was about sixteen — we lived in Berkeley at the time — and he said, in response to someone asking him about getting a driver's license, "Why would I need to drive? I can get anywhere I need to on my bike."
I love to explore cities as close to the ground as possible — bicycling or on foot — and I've visited almost every nook and cranny in San Francisco, especially all the hillside stairways. Too bad we can't climb those on our bikes. 🙂
What I love about San Francisco is its neighborhoods — how distinct they are in their weather, culture, and geography. It's hard to pick favorite, but I especially like the Presidio, the Mission, and Bernal Heights. And the best way to see those neighborhoods is on a bike.
I would be honored to guide you through the city on one of our tours.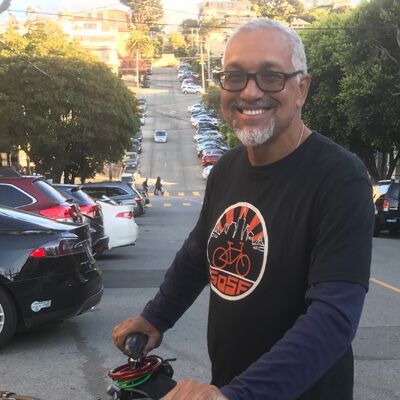 Frank "Frankie T" Tucker
Guide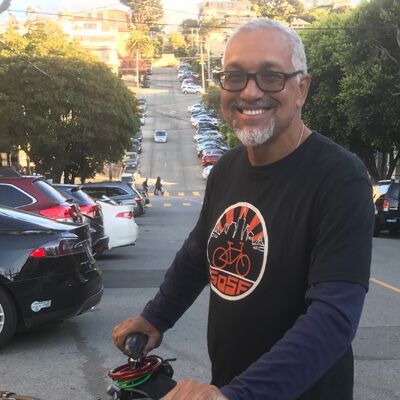 Frank Tucker
Guide
Welcome to San Francisco, my home. I came out here from New York City on a two year corporate assignment, and now forty years and four kids later I am still here. Clearly I was always a San Franciscan, but it took me many years to find my way home. I love sharing the history, evolving culture and secrets of my city with visitors from all over our planet.
From my first tricycle, the one my father had to anchor blocks to the pedals so my feet could touch them, I fell in love with cycling. When my mother took the training wheels off of my four-wheeler and it became a two-wheeler, I knew that I was destined to be an urban cyclist. Since that day, I have cycled in virtually every city in these United States as well as six of the seven continents (With global warming/climate change I may get to ride my bike in Antarctica one day).
The best way to become one with a city is to cycle through the major thoroughfares as well as on the unbeaten paths. That is why I love sharing San Francisco via a bike ride with my guest. In just a short ride we get to experience the rich, social, ethnic and cultural diversity of San Francisco, enjoying the microclimates, breathtaking natural and manmade views, and vistas and rolling thru our unique topography.
I am the luckiest man in the world to have the opportunity get to do what I love and love what I do… Riding my bike thru San Francisco with you.